Sekitar 2 tahun yang lalu google pernah merilis panduan SEO (Search Engine Optimization) untuk pemula yang sudah di terjemahkan ke dalam 40 bahasa. Kali ini google kembali merilis edisi terbaru SEO Starter Guide (perbaikan dan penambahan materi dari sebelumnya). Bagi para pemilik website, blog atau webmaster yang ingin mengoptimalkan websitenya di melalui search engine, maka panduan SEO ini mungkin menjadi referensi wajib.
Di versi terbaru ini, selain perbaikan, terdapat tambahan-tambahan materi. Informasi baru tersebut antara lain :
Daftar istilah dan definisinya yang digunakan di panduaan ini.
Lebih banyak contoh untuk membantu memahami isinya
Berbagai cara untuk mengoptimalkan website untuk perangkat mobile
Penulisan kata yang semakin diperjelaa
Bagi yang belum tahu apa isi SEO Starter guide ini, berikut beberapa hal yang dijelaskan secara detail lebar ke dalam 32 halaman PDF ini :
SEO basics
Improving Site Structure
Optimizing Content
Dealing with Crawlers
SEO for Mobile Phones
Promotions and Analysis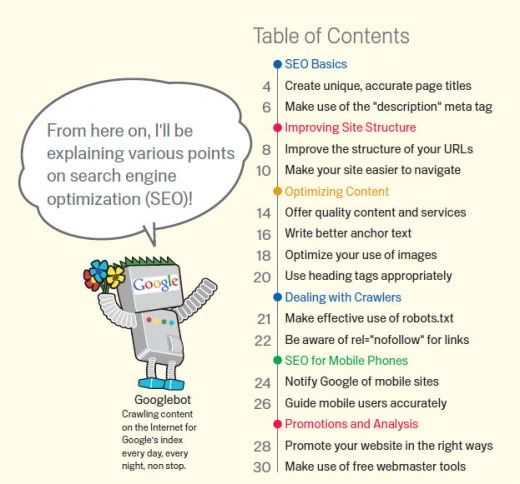 Dengan mempelajari panduan ini, maka pemilik blog/website bisa lebih mengoptimalkan websitenya agar tampil lebih baik di search engine. Bagi yang belum familiar membaca bahasa Inggris mungkin harus bersabar untuk menunggu edisi indonesia, karena panduan ini baru tersedia dalam bahasa Inggris.
Download SEO Starter Guide 2010 eBook ( 4.2 MB)
Sumber:ebsoft.web.id